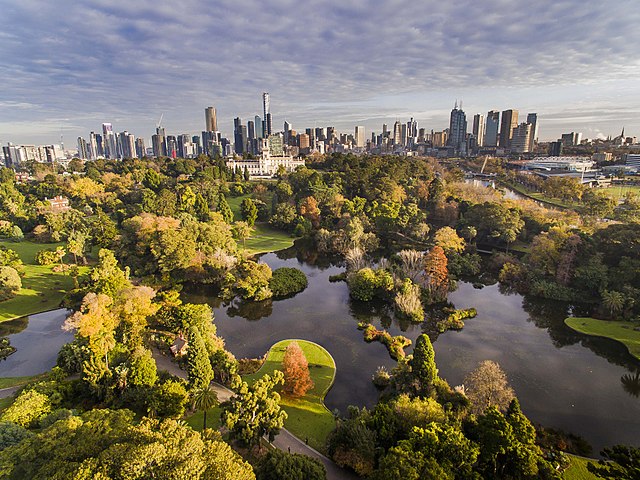 The Royal Botanic Gardens Melbourne (RBG) has a secret and it has been hidden in the southeast corner for over 100 years, behind a screen of nondescript vegetation. Most visitors did not know that behind the trees was a volcano! Of course it is not real, but one William Guilfoyle the second Director of the RBG designed in 1876 as a reservoir to store water for the gardens. It is possible that his influences came from his travels around the South Pacific Islands. The volcano was decommissioned as a working reservoir in the 1950s and the gardens became reliant on mains water.
Andrew Laidlaw, the RBG's Landscape Architect, is at pains to point out that the redesign of this landscape is not a replica of Guilfoyle's design but it is the reinterpretation of the volcano concept to try and help address today's water availability issue. According to Richard Barley, previous Director of the Melbourne Gardens, the volcano holds 1.3ML which is roughly the amount need to complete watering the entire garden. To water the whole garden, it takes several nights to complete.
Solving this huge problem has been divided into three stages. The first stage is to repair the volcano, the second step is to obtain an extra 70 ML of storm-water from surrounding streets and the third step is to investigate the possibility of alternative sources of water to allow the gardens to become independent of mains water. A feasibility study of this third stage is under way.
The first step has started! The site has been cleared and visitors can now see the volcano. It sits at the highest point of the site near Anderson Street and the lawns around it represent lava flows and the garden beds the land masses. The rockery garden beds are meant to look like rocks thrown out by the volcano. The site has a mannerist feel to the design. Mannerism is a 15th century use of devises to scare, cause surprise or alarm.
Article Source: http://EzineArticles.com/6225833